What is a Seedbox?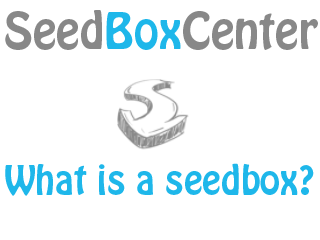 I've decided to begin this blog's career with the first question newcomers will have on their minds: what is a seedbox?
But before I go there, let me tell you a few words on how things are today on the NET.
Big corporations push for a more censored NET on a daily basis, limited access and various penalties for not following their "rules". A few examples are the "Six Strikes" that went live in the USA a few months now, various three strike rules that you can find in France, New Zealand, etc, of course Russia which is pushing for more strict rules and last but not least UK, which is censoring sites massively all around the NET. So it is logical for you to want to protect your privacy and skip the risk of being penalized for something silly.
So, what is a seedbox after all?
A seedbox is a server (PC/computer if you prefer) which is hosted on a datacenter (huge buildings where they host hosting providers with high speeds etc), together with a ton other servers and can be used to download or upload torrents at a high speed from there.
How do you manage that?
When you get your seedbox you are given a login page and the information needed in order to get in there. So you just simply login there, normally like any other website (I forgot to mention that usually each seedbox comes with a unique (or dedicated if you prefer) IP which is like having a website but instead of SeedBoxCenter.com you type numbers/IP) from your browser and through that webpage you can download or upload torrents to or from your seedbox.
So I download torrents on my seedbox. How can I get them to my PC or how can I even upload something to it and seed it?
That's an easy question. Usually through a free FTP program (like Filezilla) which is a program that connects your PC to your seedbox and from there you can download/grab or upload the files you want. Think of it like some kind of personal download manager. Some seedbox providers might let you download from your seedbox through a page (related to your seedbox of course), so there you can actually use a real download manager. Of course you can reach amazing speeds when you download directly from your seedbox. One more thing you might be interested in is SFTP, which, if the provider gives you that option, encrypts your transfers and not even your ISP will be able to tell what you are downloading or uploading to your seedbox. That makes it amazing and super safe!
This is basically the "What is a Seedbox" chapter!
I hope I covered some basic concerns you might have had around that question. If you still have a question though, feel free to either check out this Wikipedia page or ask a question in the comments section below and I will get back to you ASAP.
Next chapter, Why should you get a seedbox?
See you soon!