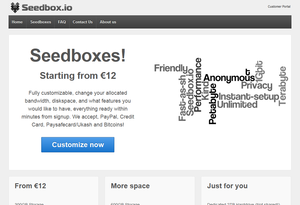 5 months ago, SeedBox.io, joined the seedbox market in order to provide us with some great services. Today they are going to present to us four of their packages. The company might be new and reviews might be nowhere to be found yet but according to their support they are a part of FTW Inc which was launched in 2010 and is based in Seychelles.
I haven't personally tested their seedboxes but the support team was fast and sounded like real professionals who actually know what they are selling. Anyway enough with my mumbling (I already started on the first offer! meh..), let's see what SeedBox.io can offer us.
All packages got an amazing 1Gbps (Down) line, unmetered bandwidth and a dedicated IP (even on the shared plans!). You can have an unlimited amount of active torrents but according to their FAQ you are not allowed to use public trackers. The seedbox is given to you with ruTorrent "fine tuned for optimal performance" like they point out. No unnecessary extras, you get a pure seedbox here.
They also do offer a special service which is called Premium/Prioritized traffic for 5eu/m ($6.80) which gives the customer a higher priority, of speed, than regular seedboxes. A direct example would be two users trying to use 1Gbps each, where the one with premium traffic would reach 700Mbps and the regular user about 300Mbps. Whereas it would have been 500 / 500 with two regular users. (Don't worry though, premium traffic users are balanced between their seedboxes)
Lastly you can grab a seedbox at the price of 12eu ($16.32) monthly for 300GB disk space up to 223eu ($303.28) for 7.2TB (10% off coupon available for first month, check out the table below). Pay by either PayPal (no fee), credit card (5% fee) or anonymously with Bitcoin (5% fee) or Paysafecard/Ukash (25% fee) and have it ready instantly. They do not offer any trial at the moment (although we've been told that you can email them and ask for one and they might make an exception ;)) but all the plans come with a 14 days money back guarantee so you've got nothing to worry about.
Be sure to check out their Terms of Service and Privacy Policy. Taken from their ToS:
– Any account deactivated due to non-payment will require a reactivation fee of €10.00 prior to reactivation.
– We DO NOT refund partial monthly fees to accounts. We require 3 days notice for a cancellation.
You can find the table with full information about the plans below.