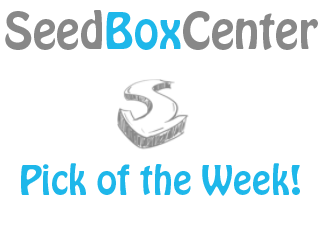 Hello everyone,
This is our first weekly synopsis or if you prefer "Pick of the Week" post

Here I will present to you the most important news, changes and of course the best plan of the week.
Before I start I would like to point out a few things. (You can also find all the info below on our About page)
First of all I would like to let you know that all the content is written by my team and I and NOTHING is ever going to be written by a seedbox provider or another person outside of SBC.
The first offer of each seedbox provider is going to have a mini interview / review (company based NOT seedbox based) and that is why it might take a little more time for us to write it. Each provider can present to us up to four packages in a single offer and up to two seedbox offers per month.
Unless we point it out from the beginning, all these posts we make are seedbox offers and NOT reviews. We do not vouch for any company, we are just posting offers. We will also urge you to always check out each provider's Terms of Service and Privacy Policy and reviews we found on the web.
Since this is our first week we have only showed you two seedbox providers offers and yeah that's about it (sorry :P). So let me present to you the best plan of the week

Plan Duration
Type
Disk Space
Bandwidth
Connection (Up/Down)
RAM

CPU

Location
Data Center
OS
Max. users per server
Max. users per HDD
Dedicated IP
Monthly
Shared
900GB
5TB *
500Mbps / 1Gbps
Nondisclosure

Intel(R) Xeon(R) CPU X3440 @ 2.53GHz

Netherlands (Amsterdam)
Evoswitch DC (Leaseweb NW)
Debian OS
6
2
Active Torrents
Public Trackers

Access

Client

Extra

Payment Method
Support Method
No setup fee
Max. setup time
Money back guarantee
Free Trial
Coupon
Unlimited

WebUI, (S)FTP, HTTP(S), SSH non-root access

ruTorrent, Deluge, Transmission

OpenVPN, Squid Proxy, ZNC (on request)

PayPal, Bitcoin, Payza
6h
Why did we choose this plan? It was the best combination (cost wise and speed wise) between all the offers we checked out this week


Check UltraSeedbox post here.
See you next week!
Thank you,
SBC Picky Team
SeedBoxCenter.com – Seedbox news and offers on a 24/7 basis